Your support of the University College Building Revitalization will create a more open and supportive environment that will nurture the academic potential and personal growth of every UC student.
By revitalizing our beloved spaces with heritage and functionality in mind, together we will ensure that UC continues to tell the stories of the past, while serving the needs of present and future students.
Clark Reading Room
West Hall is being transformed into the Clark Reading Room for the benefit of students thanks to a generous donation from Fran (BA 1969 UC) and Ed Clark (BA 1969 UC) who met at UC as undergraduates. 
The Clark Reading Room will have dedicated areas for individual and group study to accommodate different study styles, allowing students to work independently or learn from each other in groups according to their preference. Specially designed workstations complete with personal lighting and power sources will enable students to literally plug in and recharge between classes.
The room's beautiful heritage features include a dazzling stained-glass rose window and more than 250 unique wooden roundels, all of which will make a magnificent backdrop for students who will be reading, meeting and discussing group projects.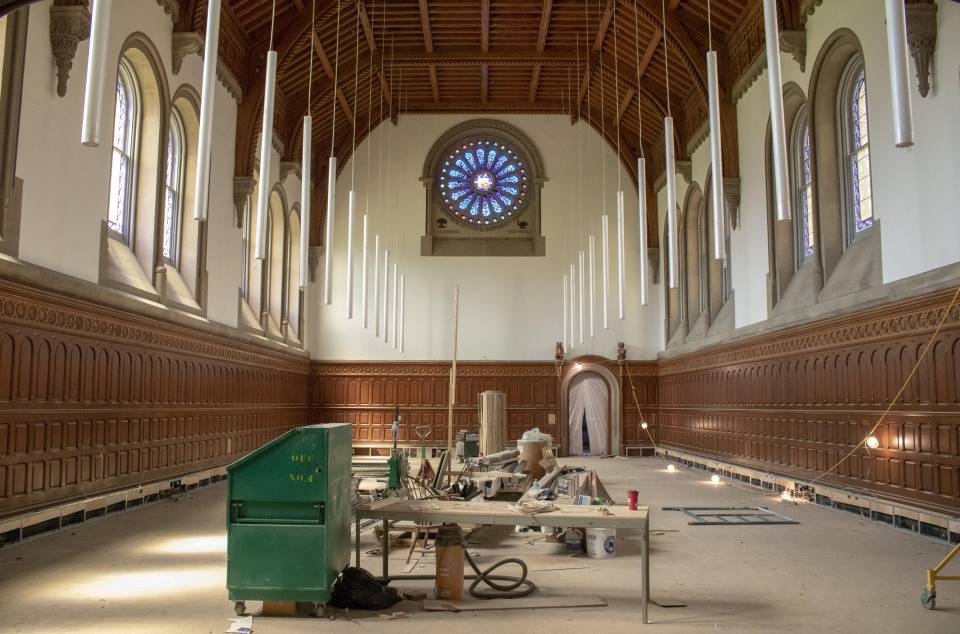 Collections Room, East Hall
Our plan breathes new life into the library by returning the Collections Room to its initial location and the East Hall to its first purpose. In accordance with the library's original design, our plan also calls for the reinstallation of a gallery level complete with alcoves to increase collection and study space. By restoring the historic nature and purpose of the room, we will further our quest for academic and research excellence.
The new library will attract students from across campus to University College, introducing and engaging them with our warm and unique community. Commuter students will also have more space to study and socialize between classes.  Additionally, the library will be adjacent to amenities that we know are important to today's students so they can take much-needed breaks and be able to connect with their peers. A new café on the third floor will provide students with a comfortable space to meet, relax and engage in group projects.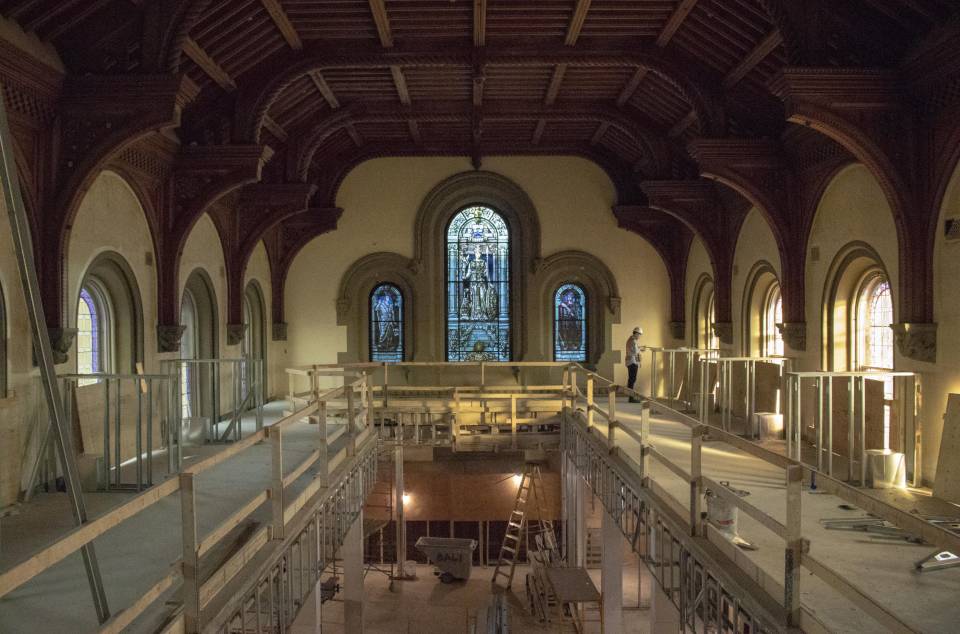 Clark Quadrangle
The reimagined Quadrangle will allow for classes to move outdoors in nice weather and for plays to be staged under the stars. While its functionality will be increased, the Quadrangle will remain a green space for quiet reflection – something that is increasingly important as the campus and city continue to develop around us.
While a popular destination, the Quadrangle has not seen significant improvements in its nearly 50 years. Our plan calls for new lighting, electrical support, plantings and benches, as well as a new walkway on the east side to ensure that all four corners of the Quadrangle are accessible and active.
A verdant oasis in the middle of both University College and the downtown core, the Quadrangle is one of the UC community's most loved spaces. Created in 1964 with the addition of the college's northern Laidlaw Wing, the Quadrangle is where students, faculty, and staff go for relief from the rigours of the day.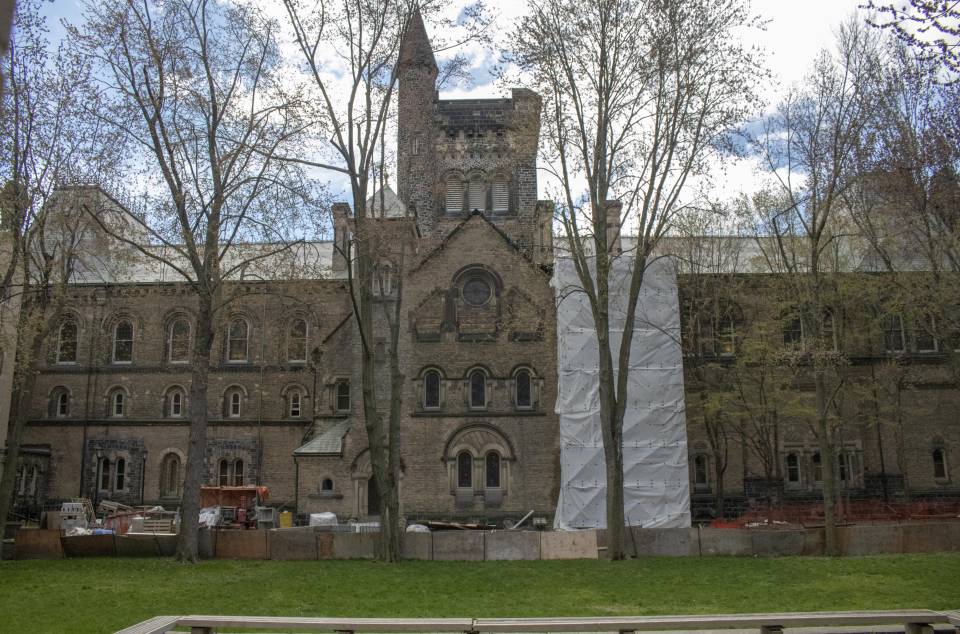 Paul M. Cadario Conference Centre at Croft Chapter House
Our plan returns Croft Chapter House, currently used for administrative meetings and receptions, to a space dedicated to research and open inquiry. Thanks to a $3 million donation from Paul M. Cadario (BASc 1973), this unique space will become a flexible, full-service conference facility with modern lighting as well as acoustical and audio-visual elements. Historical sensitivity will be paramount in the restoration of this unique domed structure and the finished space will have realized its potential to be one of the finest rooms not only in the University, but also in the city of Toronto.
The Paul M. Cadario Conference Centre at Croft Chapter House will attract researchers from around the University, Canada and the world to UC for groundbreaking conferences and symposiums, showing students the latest discoveries and innovations in a wide variety of fields.
Cadario says he donated "because I think student experience is important and student experience is primarily who teaches you and whom you learn with.  And when [UC Principal] Don Ainslie showed me the plans for the project, I said 'this is just great.'"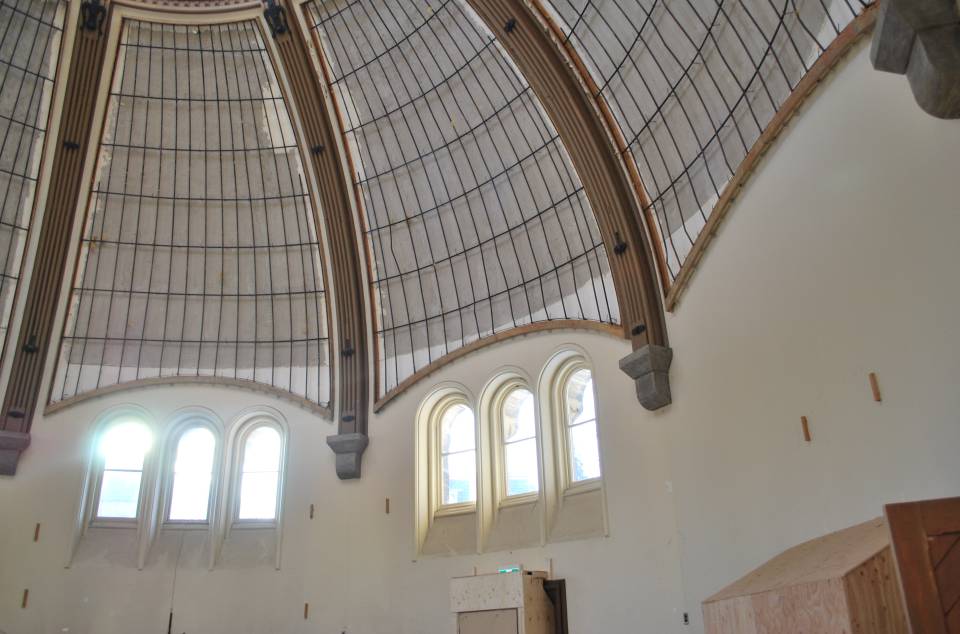 Accessibility
Our plan calls for additional ramps and points of accessible entry, as well as a central elevator, to make UC truly open to everyone. Enhanced lighting and new way-finding signage in UC's maze of corridors will make it easier for students and visitors to find classrooms, administrative offices and faculty offices.
UC has long been committed to being open to all those who are qualified, regardless of their religion, financial circumstances or social status. Physical limitations remain a barrier that we must similarly break down to make UC increasingly accessible.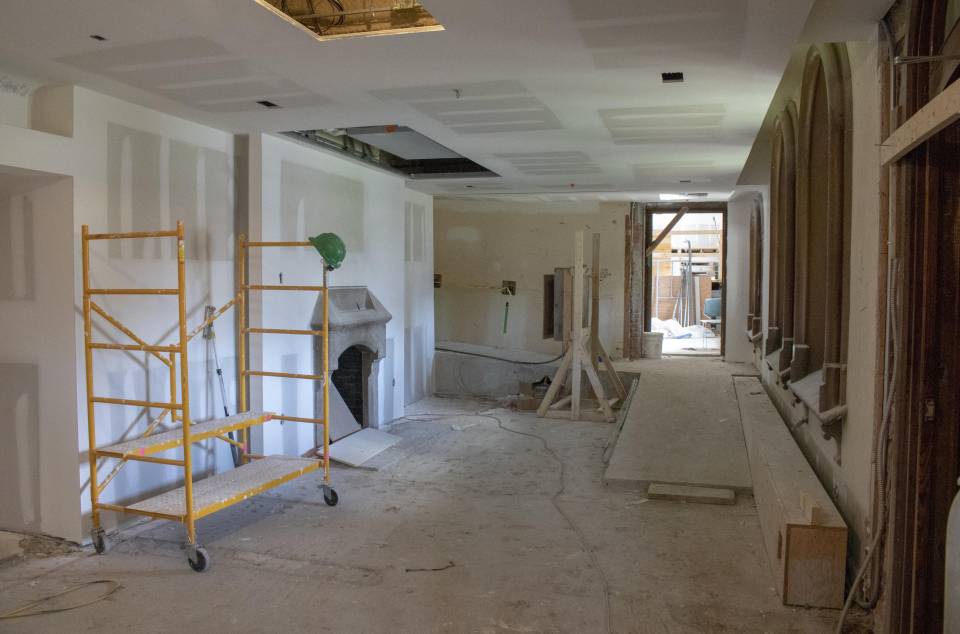 Support the UC Revitalization