Barker Fairley Distinguished Visitor Event 2022-2023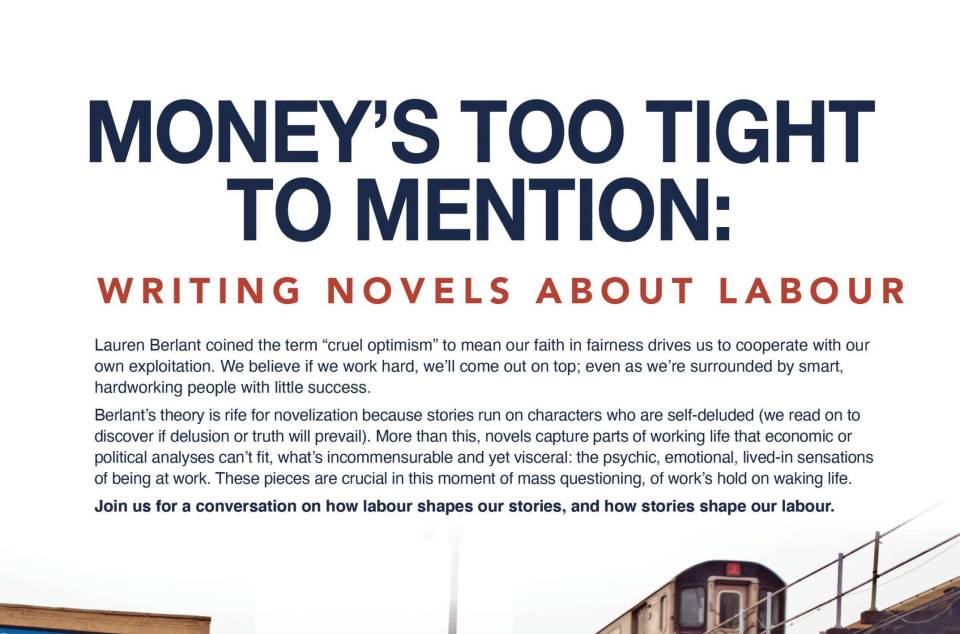 Money's Too Tight to Mention: Writing Novels about Labour
Lauren Berlant coined the term "cruel optimism" to mean our faith things will get better drives us to cooperate with our own exploitation. We buy the concept that if we work hard, we'll come out on top; even as we're surrounded by smart, hardworking people with little success.

Berlant's theory is rife for novelization because stories run on characters who are self-deluded (we keep reading to discover if delusion or truth will prevail). More than this, stories capture parts of working life that don't quite fit economic or political analyses, what's incommensurable and yet visceral: the psychic, emotional, lived-in sensations of being at work. These are key pieces especially in this moment of mass questioning, of work's hold on our waking lives.

Join us for a conversation on how labour shapes our stories, and how stories shape our labour.

Monday, March 27, 2023
6:00 p.m. EDT (doors open at 5:45 p.m. EDT)

This event is being held in-person at University College.
A reception for attendees will follow.

The Clark Reading Room
University College
15 King's College Circle Toronto, ON M5S 3H7
Faculty, students, staff, alumni, and the public are cordially invited. Registration is required. Please register via the form below by Friday, March 24, 2023.

Please kindly let us know it you require accessibility accommodations with your registration.
This event is being held in-person, but we will be recording it for all of those who are unable to attend. The recording will be made available on the UC website shortly after the event.

Please note that masks are not required at U of T at this time, but as communicated by Ontario's Chief Medical Officer of Health, masking indoors is strongly recommended.
For more information, contact uc.rsvp@utoronto.ca.
Please register by Friday, March 24, 2023