UC Student Wins Digital Inclusion Challenge with Low-Bandwidth Video Conferencing Tool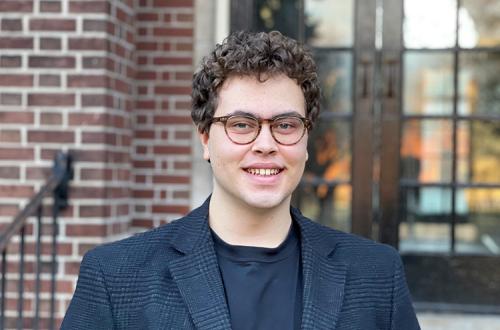 First-year University College math student Euan Pound and his teammates have captured the top prize at the Digital Inclusion Challenge 2020. They beat 150 teams from 30 countries to win the $10K prize for a concept for a low-bandwidth video conferencing software that could improve access to mental health resources in remote communities.
Called Face to Face, the software records movement from points on a person's face and transmits the data to an avatar, enabling non-verbal communication without the bandwidth required by video.
Pound, who grew up in Thunder Bay, Ontario, developed the concept with three of his high school friends. "We came up with a solution that could fix the problem of low bandwidth in northern communities and provide an alternative for camera-shy clients, while still allowing the caregiver to see expressions and non-verbal cues through the avatar," he says.
Read more about Pound and the innovation in U of T News and U of T Celebrates.