S.J. Stubbs Lecture in English Literature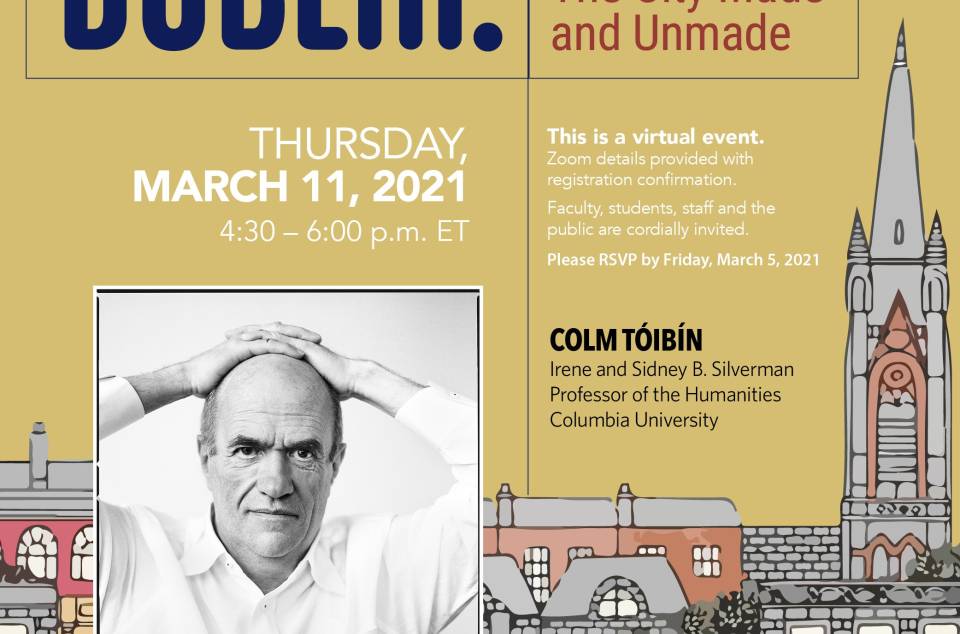 James Joyce's Dublin: The City Made and Unmade
Joyce's 'Ulysses', although set in Dublin, was written in three other cities, Trieste, Zurich and Paris. In each of these cities, Joyce imagined his own city. During the composition of the book, the very centre of the city where it was set was destroyed in the 1916 Rebellion, just as the First World War radically changed the Europe in which Joyce had taken refuge. Thus, although the book is set in 1904, it is infused with the history of the time in which it was written. The city was being unmade by history just as Joyce was making it in words. The irony of this re-created the very tone and structure of the great novel.
Thursday, March 11, 2021
4:30 – 6:00 p.m. ET
This is a virtual event.
Zoom details provided with registration confirmation.
Faculty, students, staff and the public are cordially invited to this virtual lecture.
Please RSVP by Friday, March 05, 2021.
Colm Tóibín
Irene and Sidney B. Silverman Professor of the Humanities
Columbia University

Should you have an accessibility need for which you require accommodation, please let us know with your acceptance.

For more information, please contact us at uc.rsvp@utoronto.ca or 416-978-7416.