The UC sUCcess Commons is a resource students can use to receive support for their academic, professional and personal lives.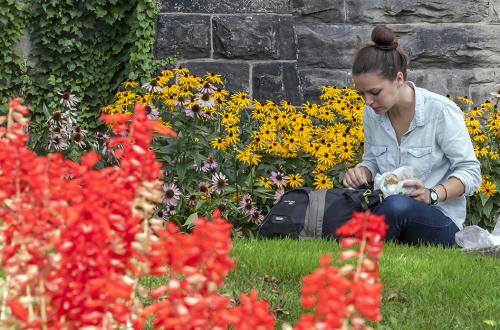 Receive the Support You Need to Succeed
University College offers students a number of services that provide one-on-one support. The sUCcess Commons gives students the guidance and supports that allow them to reach their academic and personal goals.
We bring essential campus services directly into the college, so students have access to dedicated staff with reduced wait times and more personalized support.
sUCcess Commons Offers:
Personalized support to student academic and personal needs;

Student advising and counselling;

Group workshops and sessions.
Success Starts Here
With a focus on student needs and requests, the University College sUCcess Commons has integrated resources and services from across the University of Toronto's St. George campus. This provides convenience and tailored support for a balanced higher education experience for all University College students.
Academic Skills Education
Our learning strategists can help you develop strategies to achieve academic success based on your strengths and learning style. These strategies include reading, writing, essay organization and time management, as well as ways to manage procrastination, anxiety and stress.
Career Education and Advising
Make an appointment with our career educator to explore career options, upgrade your job search skills, take part in a mock interview, learn about employment opportunities and make a plan for after graduation.
International Student Advising and Exchange Opportunities
International students can meet an international transition advisor to get advice and support about life, school, and working in Canada. International and Canadian students can also meet to discuss study abroad and intercultural opportunities.
Accessibility Advising
Our accessibility advisor can help you verify disability-related needs that require accommodations in your learning. These advisors work closely with students to create accommodations and facilitate the accommodation process with their instructor and staff.
You can register for accessibility accommodations and make an appointment to meet with an accessibility advisor by contacting Accessibility Services through email or phone (416-978-8060).
Counselling & Psychotherapy
Short-term counselling is available to students for a wide range of concerns, from relationship problems, self-esteem issues and interpersonal issues to depression, anxiety, substance or alcohol use and body image concerns.
To book an appointment, contact the Health and Wellness Centre at 416-978-8030 (selection option 5) and ask to book a time with an University College counsellor.
Book an appointment
To book an appointment with a UC sUCcess Commons service, please email us with the following:
Student's LEGAL name (preferred name in brackets)
Student number
Email
Contact number
Name of Success Commons Service
Reason for booking
Availability for appointment