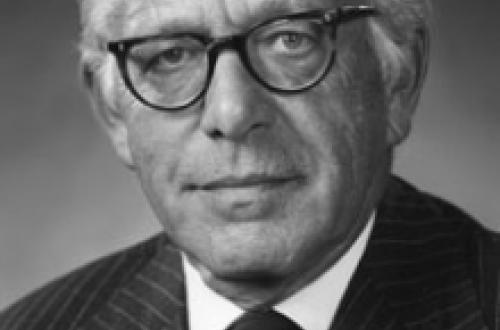 BA 1936 UC - 2014 Award Recipient
Saul Rae was born in Hamilton, Ontario, of immigrant parents.  He showed a talent for music and theatre at a very young age, and travelled across Canada as part of a family troupe called the Little Raes of Sunshine. 
He came to UC on a scholarship in 1932, and had an active student life, becoming president of the Lit, an active debater at Hart House and producer and director of the UC Follies. He won the Moss Scholarship and became a Massey Fellow, completing his PhD at the London School of Economics in 1938.
After doing pioneering work on public opinion research with George Gallup, he joined the Canadian foreign service in 1940. He served in Algeria, Paris, London, Vietnam, Washington, Geneva, Mexico, New York and the Hague, and served as Canadian ambassador to the United Nations in Geneva and New York, as well as Mexico and the Netherlands.
He retired in 1980 and kept up an active interest in public affairs, as well as music and theatre. On his death in 1999, Prime Minister Jean Chrétien called him "one of the most remarkable men I've ever met. His sense of humour and lively mind drew people to him, and I was proud to know him as a friend."