The Launch of the New Certificate in Black Canadian Studies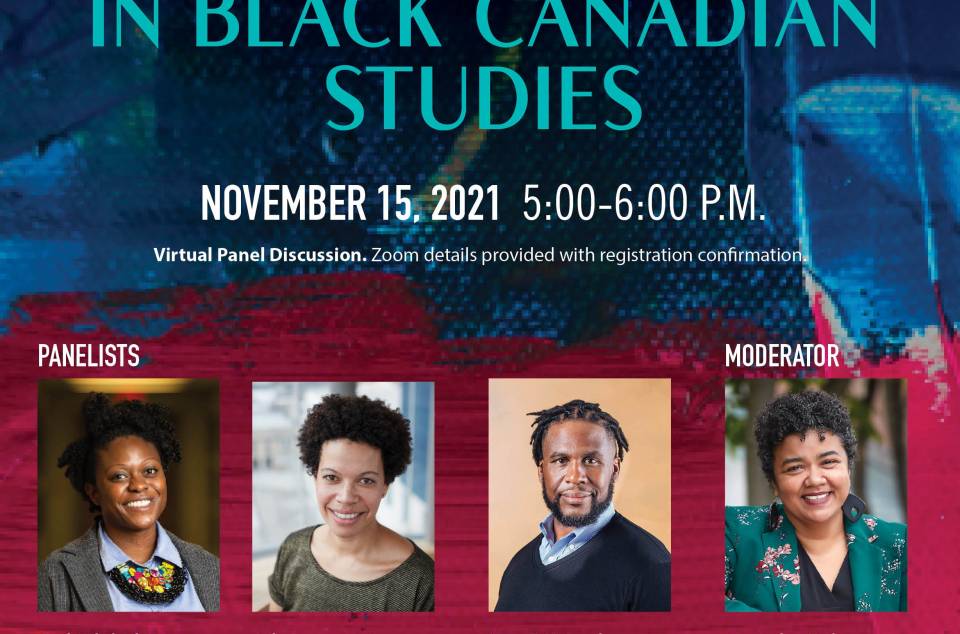 The Launch of the New Certificate in Black Canadian Studies 
Join Professors Funké Aladejebi, Seika Boye, and Lance McCready, and moderator Dr. Audrey Hudson for the launch of the Certificate in Black Canadian Studies and a discussion of the importance and vitality of Black Canadian Studies and Black Studies on U of T's tri-campus. 
Hosted by University College's Canadian Studies Program, this Certificate supports interdisciplinary study and research on the social construction of race in Canada, with a focus on Black Canada and Black Canadians. The Certificate draws on courses from across Arts & Science that attend to past and present contributions by individuals and communities; counter-narratives and forms of resistance against anti-Black racism; and empowerment enacted by Black Canadians. The Certificate also supports comparative, transnational, and diasporic perspectives, situating Canada within the Black Atlantic so as to engage in diverse conversations of race, belonging and identity-formation across the diaspora.
Participants are invited to share questions in advance of the event.
 
Event Details:
Monday, November 15, 2021 
5:00-6:00 PM EDT
This is a virtual event. Zoom details will be provided by the event organizer leading up to the event. 
Faculty, students, alumni, and the public are cordially invited.  
Panel: 
Funké Aladejebi, Assistant Professor, Department of History, U of T
Seika Boye, Assistant Professor, Teaching Stream, and Director, Institute for Dance Studies, Centre for Drama, Theatre and Performance Studies, U of T 
Lance T. McCready, Associate Professor, Department of Leadership, Higher and Adult Education at Ontario Institute for Studies in Education, and Director of the Transitional Year Programme, U of T 
Moderator:
Dr. Audrey Hudson, Richard and Elizabeth Currie Chief, Education and Programming, AGO 
Please RSVP by Wednesday, November 10, 2021.
For more information:
Please contact uc.rsvp@utoronto.ca for more information regarding the event. If you're interested in learning more about the Certificate in Black Canadian Studies, please contact s.oflynn@utoronto.ca.
Should you have an accessibility need for which you require accommodation, please let us know with your acceptance.