Envisioning Asian Canadian Futures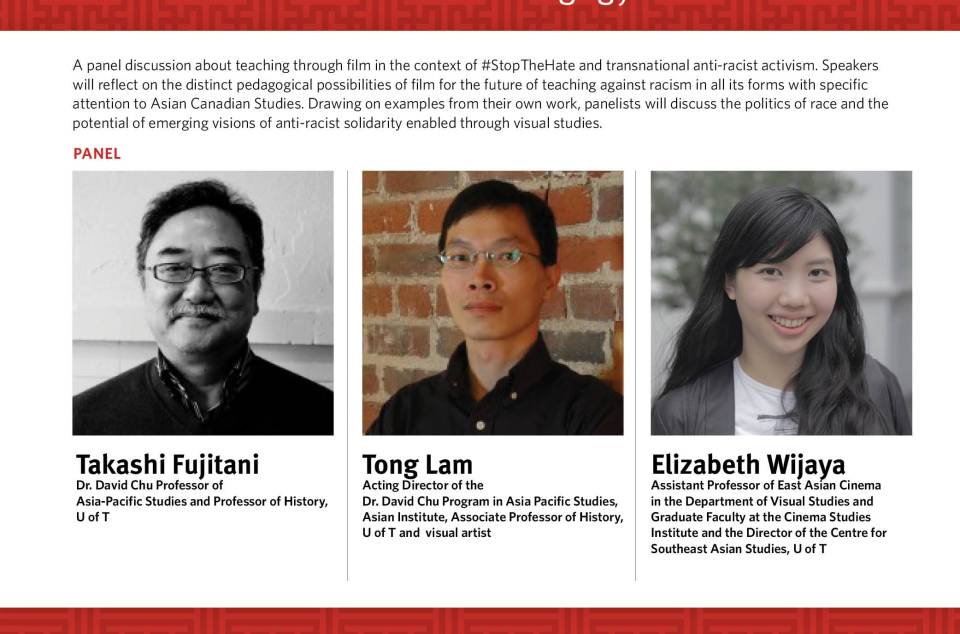 Asian Institute at the Munk School of Global Affairs & Public Policy, University College and the University of Toronto Libraries Proudly Co-Present
Envisioning Asian Canadian Futures: Film Studies as Anti-Racist Pedagogy
A panel discussion about teaching through film in the context of #StopTheHate and transnational anti-racist activism. Speakers will reflect on the distinct pedagogical possibilities of film for the future of teaching against racism in all its forms with specific attention to Asian Canadian Studies. Drawing on examples from their own work, panelists will discuss the politics of race and the potential of emerging visions of anti-racist solidarity enabled through visual studies. 
Panel:
Takashi Fujitani, Dr. David Chu Professor of Asia-Pacific Studies and Professor of History, U of T
Tong Lam, Acting Director of the Dr. David Chu Program in Asia Pacific Studies, Asian Institute, Associate Professor of History, U of T and visual artist
Elizabeth Wijaya, Assistant Professor of East Asian Cinema in the Department of Visual Studies and Graduate Faculty at the Cinema Studies Institute and the Director of the Centre for Southeast Asian Studies, U of T
Event Details:
Tuesday, May 18, 2021
7:00-8:30PM EDT
This is a virtual event. Zoom details provided with registration confirmation. Faculty, students, alumni, and the public are cordially invited. 
Please RSVP by Thursday, May 13, 2021
Contact uc.alumni@utoronto.ca for more information.