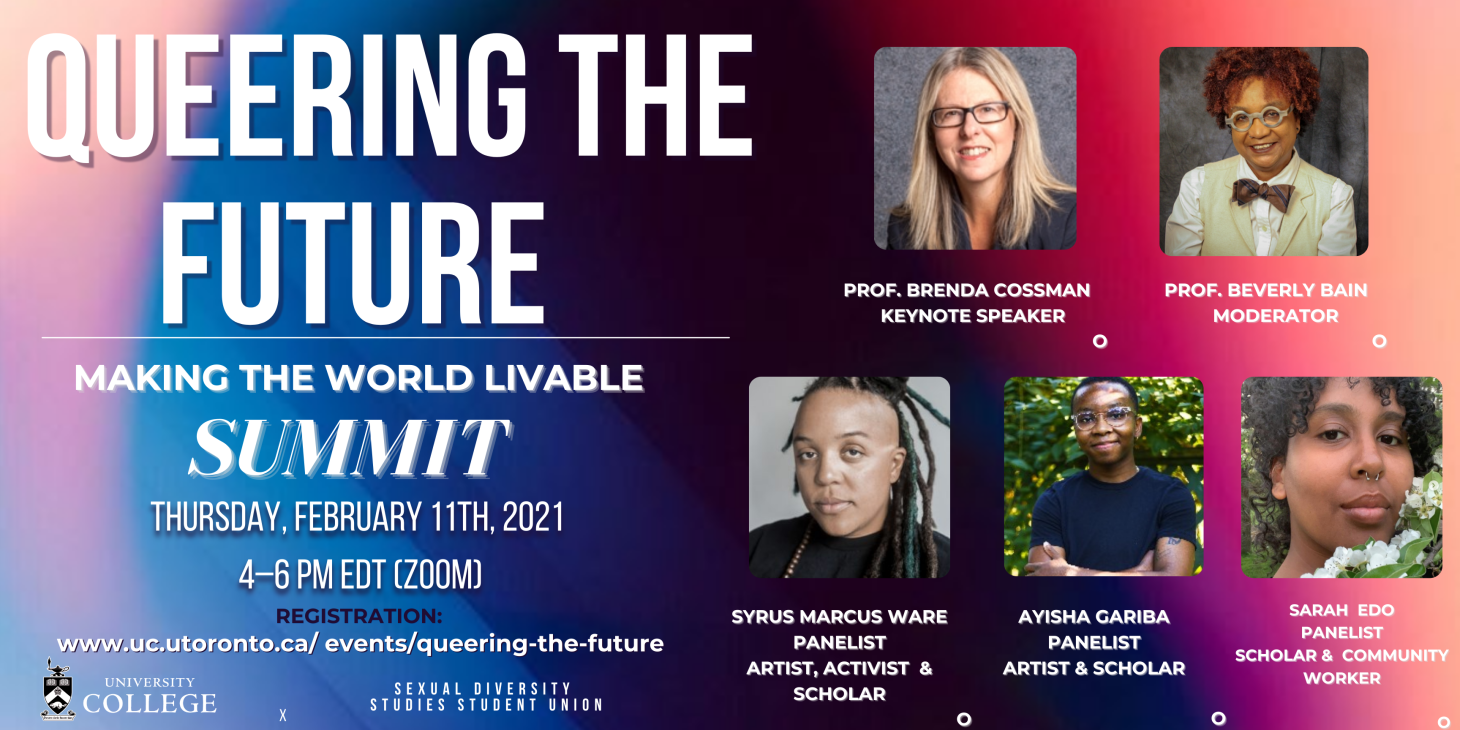 Set Sights to the Future, Join the Conversation.
University College and the Sexual Diversity Student Union warmly invites you to join us for our Queering the Future Summit.
Queering the Future Summit
Thursday February 11th, 2020
4:00-6:00pm (Via. Zoom)
This summit aims to highlight the flaws in the system, answer questions from artistic and academic perspectives offering up a space for open dialogue between students and professionals. The questions this Summit wishes to engage with transformative justice, that is, if we are to imagine queer BIPOC-centered futures, abolition work is central to this and is necessary for any conversation of imagining such futurities. Even the work of defunding, if abolition seems like too large a theoretical step.  
How does the law affect the lived experiences of queer and non-gender-conforming BIPOC?? How does race amalgamate with gender and sexuality to further oppress folks marginalized in these regards? Does imagining queer futures mean imagining abolitionist futures? And in what ways could we as university students begin to actively engage with these issues? 
We begin with looking at the ways in which, the Canadian legal system has reinforced a gender hierarchy and encourages discrimination against people based on gender identity, and sexual orientation. With that basis, we can produce a more nuanced analysis of many of our most pressing social problems. Through this event, students will have the opportunity to absorb visual art that pertains to queering the future. They will also get a chance to engage in conversations with guests that are involved in this intellectual and artistic project. Students will leave this event with a newly developed perspective and in-depth understanding of the connections between race, sexual diversity, law, art and they shape the lived experiences of many people. Finally, students who are interested in future careers pertaining to human rights, art, academia or a combination of them all can see how, they too, are implicated in facilitating change. 
Connect with us!
Follow UC Student Life (Instagram and Facebook) and the Sexual Diversity Studies Student Union (Instagram and Facebook) for our upcoming announcements!
Registration
Registration for this event is now closed (as of Thursday February 11th, 10am).