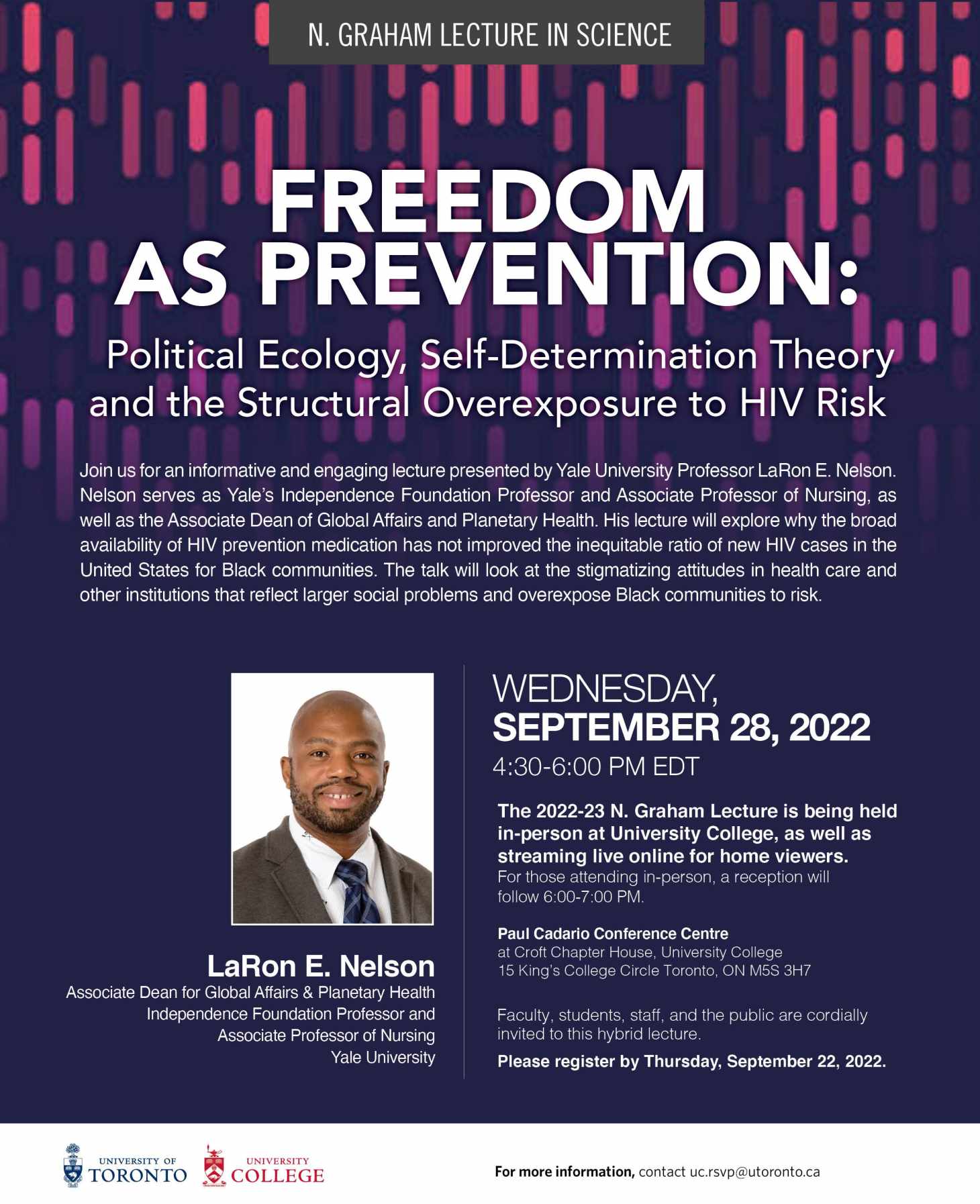 N. Graham Lecture In Science
Freedom as Prevention: Political Ecology, Self-Determination Theory and the Structural Overexposure to HIV Risk
Join us for an informative and engaging lecture presented by Yale University Professor LaRon E. Nelson. Professor Nelson serves as Associate Dean of Global Affairs and Planetary Health at the Yale School of Nursing, as well as the Director of Justice, Community Capacity & Equity in the Centre for Interdisciplinary Research on AIDS at the Yale School of Public Health. His lecture will explore why the broad availability of HIV prevention medication has not improved the inequitable ratio of new HIV cases in the United States for Black communities. The talk will also look at the behaviors of health care systems and other institutions which reflect larger structural arrangements that overexpose Black communities to risk. 
Event Details:

The 2022-23 N. Graham Lecture is being held in-person at University College, as well as streaming live online for home viewers.

Wednesday, September 28, 2022 
4:30-6:00 PM EST

Paul Cadario Conference Centre at Croft Chapter House,
University College
15 King's College, Circle Toronto, ON M5S 3H7

Please register by Thursday, September 22, 2022. 
Kindly let us know if you require accessibility accommodations when you register.

The Neil Graham Lecture series was established through the generosity of Neil Graham, a 1930 graduate of University College and a former teacher of high school mathematics.
 
Faculty, students, staff, and the public are cordially invited to this virtual lecture.

For more information, contact uc.rsvp@utoronto.ca
Please note the front entrance of University College will not be accessible from September 15 – October 30, 2022.  Please use the east entrance off Hart House Circle to enter University College.