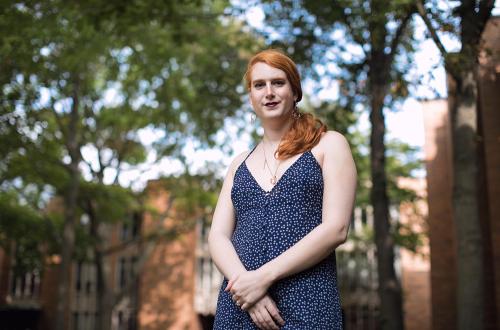 Activist and academic Florence Ashley on how to support members of trans communities
By Yvonne Palkowski

Florence Ashley is a transfeminine jurist and bioethicist and taught SDS381H1: Introduction to Trans Studies in fall 2020 at the Mark S. Bonham Centre for Sexual Diversity Studies at University College, University of Toronto. They completed their bachelor of civil law, juris doctor, and master of laws at McGill University and are currently pursuing their doctorate at the University of Toronto Faculty of Law and the Joint Centre for Bioethics. Their writing has appeared in the Globe and Mail, Montreal Gazette, Le Devoir, La Presse, and NOW Magazine, among other publications. In honour of the International Trans Day of Visibility held annually on March 31, they sat down with University College to discuss the importance of the event and how people can support members of trans communities every day of the year.
What is the significance of the International Trans Day of Visibility?
Visibility is complex for transgender people and especially trans women of colour. Visibility can mean having models and idols showing you that you can live your life fully and authentically. Visibility can mean being better understood by the public, a public that long treated (and often continues to treat) trans people as freaks, predators, or curiosities. At the same time, visibility also means being more easily targeted by harassment, discrimination, and violence. Each year, hostility towards trans people seems to grow to new heights. Each year, more and more trans women of colour are murdered due to the intersection of transmisogyny, racism, and whorephobia. In many ways, visibility has made them less safe, not more. The International Trans Day of Visibility is an attempt, albeit an imperfect one, at promoting positive visibility for trans communities. In what some call the "post-visibility" era for trans people, silence and misunderstanding are vehicles of ongoing harm. By raising awareness and loudly proclaiming that trans lives can be proud and happy ones, the International Trans Day of Visibility is calling for broader society to recognize us, to recognize that we deserve respect, and to recognize that we deserve love.
What does the day mean to you? To your students?
When I was growing up, we didn't have anything resembling adequate trans representation in the public sphere. One of the first times I was exposed to a trans character on television was an episode of Futurama where Captain Zapp Brannigan goes on a date with a woman with stereotypically masculine traits, and the fact that he is unaware that she is "actually a man" is played for laughs. It taught me that being a woman or wearing traditionally women's clothes while being assigned male at birth is disgusting and laughable, a self-hating attitude I struggle with to this day. What would my life have looked like if instead of cheap jokes, I had grown up with Danger & Eggs' Milo, She-Ra's Double Trouble, Supergirl's Dreamer, Euphoria's Jules, Orange Is the New Black's Sophia Burset, and Pose?
As a person who is very proud and public about being transgender, the International Trans Day of Visibility is the same as every other day: an opportunity to show people that trans lives can be happy and flourishing ones. It's an opportunity to show the world that trans people aren't jokes or violent villains. We're very real people with very real lives. And we deserve to be known, respected, and loved. I don't know what the International Trans Day of Visibility means to my students, but I hope that my contribution to it can make them feel a little less invisible and alone being who they are.
What is a simple way that people can be more inclusive of members of trans communities?
The simplest way of helping trans communities is also the hardest way. Listen to them. Listen to what trans communities tell you about their needs. Listen to what they tell you about what it means to be an ally. Show up for trans communities on their terms, not on yours. Allyship is not easy, because it requires active listening and decentring yourself. It begins with recognizing and respecting trans people's gender. But it also requires more. Allyship means standing up against the ongoing, violent backlash against trans lives that we are seeing in Canada and countless other countries. Allyship means challenging discriminatory structures and institutional policies that make it harder for trans people to be full and active participants in civil society. Trans people are disproportionately pushed out of university education and academia because support often ends as soon as they ask for action, as soon as they ask for genuine change beyond perfunctory and empty statements.
How can people show their support for trans communities, not only today on the International Trans Day of Visibility, but every day?
The best way to support trans communities is to amplify our voices. Trans people are speaking out against discriminatory acts and policies every day, but we are rarely heard. Every time a transphobic article comes out in the media, it gets shared tenfold or a hundredfold more than articles written by trans people. Even though the overwhelming majority of people may have nothing against us or against our full inclusion in society, it is those opposing us that make themselves known. And unfortunately, the silent and inert support of a thousand simply cannot make up for the harmful acts of a few. People's support must be stronger than the harm caused by those who hate us. Amplify our voices. Check in with us. Ask how you can help. Show up when we ask for it. We need you to be there for us.