Honouring a Chinese Canadian War Hero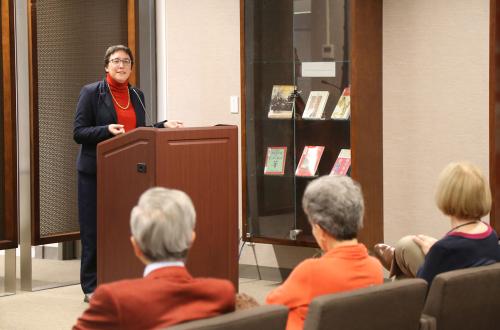 Expert panel sheds light on Frederick Lee, the Battle of Hill 70, and their significance to Canada and beyond
In the minds of many Canadians, the Battle of Vimy Ridge is synonymous with World War I. But a group of dedicated scholars, military officers, and engaged citizens are working to bring a lesser-known battle and hero to light.
The story of Frederick Lee, a low-ranking Canadian solider of Chinese descent who died in the Battle of Hill 70, was at the centre of a panel discussion about Chinese Canadians' contributions to Canadian history held at the Richard Charles Lee Canada Hong Kong Library at the University of Toronto last week.
Born to a Chinese Canadian merchant family in Kamloops, British Columbia, Frederick Lee was among 300 soldiers of Chinese descent who enlisted in the Canadian Expeditionary Force in WWI. A talented machine gunner, he survived the Battle of Vimy Ridge, but was killed in the Battle of Hill 70 in August 1917 at the age of 21. Like thousands of other fallen Canadian soldiers, he has no known grave.
More than a century later, Frederick Lee, the forgotten soldier, and the largely unknown Battle of Hill 70 have been brought to the fore with a monument dedicated in Loos-en-Gohelle, France, on October 2, 2019. Winding through the complex is the Frederick Lee Walkway.
In her opening remarks to the panel, The Honourable Dr. Vivienne Poy, Chancellor Emerita of the University of Toronto, explained the rationale for naming the walkway after Frederick Lee. "Through him is a story about the spirit of the early Chinese settlers in Canada, and the Battle of Hill 70 reminds us of how our multicultural country was built," she said.
Elaborating upon this idea and providing historical context, Prof. Lisa Mar, the Richard Charles Lee Chair in Chinese Canadian Studies at University College, explained what might have motivated Lee and others like him, despite their marginalized circumstances.
"Frederick Lee volunteered to risk his life for Canada at a time when Chinese Canadians had no guarantees of equality. British Columbia, his home, denied all Chinese Canadians the right to vote… At the time, many other Chinese Canadians, including immigrants, believed serving Canada in the war would build a better Canada, and help establish a more peaceful world.
Though Lee did not survive the war, his fellow Chinese Canadian war veterans received the right to vote. The rest of Chinese Canadians in British Columbia would wait until 1947 to regain the federal franchise. However, the community's persistent efforts contributed to gradual improvements in human rights, immigration equality, and multiculturalism that today all Canadians enjoy."
Rounding out the discussion were Prof. Robert Engen of the Department of Defense Studies at Canadian Forces College, retired Col. Mark Hutchings, chair of the Hill 70 Memorial Project, and Mr. Jack Gin, a Vancouver entrepreneur, philanthropist, and founder of the Finding Frederick Lee Project.
Commenting on the walkway's broader significance, Dr. Poy later added, "Besides highlighting the dedication of early Chinese settlers to Canada, the Frederick Lee Walkway serves as a bridge across nations, for friendship and understanding."