University College Welcomes Seventeenth Principal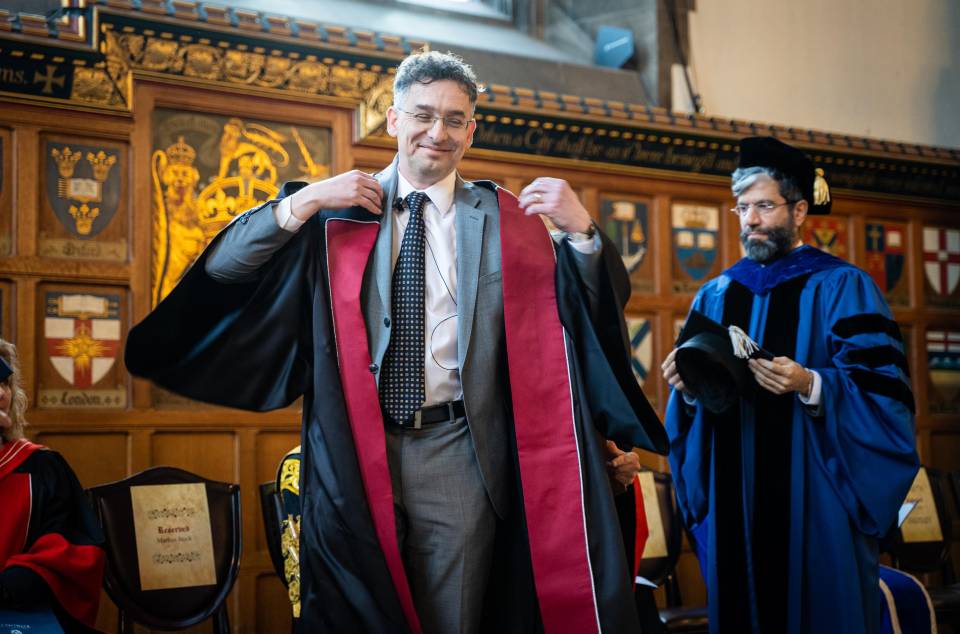 More than 180 members of the University College community gathered to induct Prof. Markus Stock as the College's seventeenth Principal at the installation ceremony held on February 5, 2020 in Hart House's Great Hall.
The occasion was steeped in history, starting with an academic procession of leaders from across the University, who donned traditional regalia and paraded after a bagpiper heralding their arrival. The 170-year-old University College mace, made of ebony and inlaid with ivory, was carried in, signifying the importance of the ceremony.
Provost Cheryl Regehr presided over the event, which included remarks from: University of Toronto President Meric Gertler; Claire Kennedy, Chair of Governing Council; Dean Melanie Woodin of the Faculty of Arts and Science; Prof. Jennifer Jenkins on behalf of UC faculty; Mr. Ho K. Sung (BSc 1980 UC), Chair of the UC Alumni Association; and Ms. Danielle Stella, President of the UC Literary and Athletic Society.
At the centre of the ceremony was the robing ritual, where Prof. Stock's doctoral gown was exchanged with his new Principal's gown and cap, with the assistance of Mr. Ryan Woolfrey, Registrar of University College, Prof. Walid Saleh of the Department for the Study of Religion, and Prof. Keren Rice of the Department of Linguistics.
President Gertler lauded Principal Stock as, "an excellent scholar, exemplary teacher, and an outstanding citizen of the University, with a distinguished record of service in academic and administrative leadership," but perhaps most importantly as, "someone who cares about his students, his colleagues, and everyone around him."
In his address, newly minted Principal Stock invoked UC's strong traditions and the community's role in advancing them: "University College's values of inclusivity, equity, and diversity… require care and wakefulness. I will rely on everyone in the UC community… to defend these values with me against all sorts of dangers arising around them in this societal and cultural moment."
Chancellor Patten closed the festivities by inviting guests to a reception that featured food and drink from Principal Stock's native Germany, and live music by a jazz ensemble of students from the Faculty of Music.
Prior to being appointed Principal of UC, Prof. Stock was Chair of the Department of Germanic Languages and Literatures, and Vice-Chair of U of T's Committee on Academic Policies and Programs. An expert in medieval German literature and culture, he will lead University College for a four-and-a-half-year term, through June 2024.
Read more about the installation in U of T News.