Toronto's architectural history 'unexpectedly thrilling' for undergrads in UC digital media course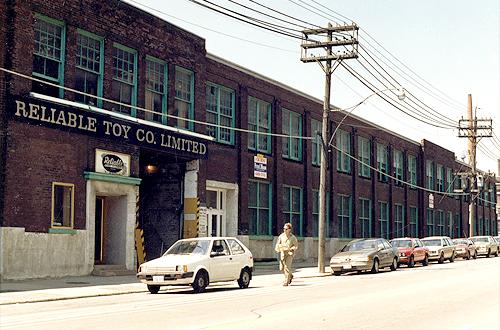 Many of Toronto's century-old industrial buildings have been converted into stylish — and very expensive — residential lofts. A prime example is the Candy Factory Lofts, located across the street from Trinity Bellwoods Park and an array of upscale eateries, boutiques and cocktail bars.
Once a dilapidated space in an "undesirable" part of the city, the building's 4,000-square-foot two-level penthouse suites now sell for millions of dollars in what Vogue magazine has called one of the "coolest" neighbourhoods in the world.
But the story of how Victorian-era factories and warehouses like this one became expensive condominiums doesn't travel in a straight line.
A group of Arts & Science undergraduate students, led by course instructor Siobhan O'Flynn of University College's Canadian Studies program, recently set out to uncover the histories hidden behind these buildings' facades.
In 2018, O'Flynn's third-year class on Digital Media, Digital Makers created Hidden Histories: Labour to Lofts, a digital mapping project where students dove into archives to reconstruct the stories of industrial buildings in Toronto like the Candy Factory Lofts.
O'Flynn is a scholar and consultant who works with digital and interactive storytelling tools. She regularly incorporates original research and digital humanities methods into her undergraduate courses, such as in 2017's award-winning Kensington Market app.
The Hidden Histories project was an ideal fit for Manik Saraf, a recent computer science graduate and member of University College with interests in social sciences and digital media production.
"As a computer scientist, I definitely think of myself as a 'digital maker,' so I was very interested in applying that mindset to this project," says Saraf.
Saraf had already taken another class with O'Flynn, "and really enjoyed her teaching style," he says. "This project allowed me to enhance my research skillset in a unique way. It also piqued my interest in local history, giving me a better understanding of the city I call home — from both a cultural and industrial perspective."
Saraf's experience aligns well with O'Flynn's teaching goals to help students increase their digital literacy, particularly digital research and data management.
"My goals are to introduce students to the digital tools and skills that will bridge into their future careers," says O'Flynn. "Contributing to projects that live beyond the duration of a course is a rare opportunity for undergraduates."
The hidden histories uncovered by O'Flynn and her students are presented through an interactive mapping tool called ArcGIS, which facilitates the creation of data-driven, shareable and interactive maps that are user-friendly and visually attractive.
Students were assigned to research specific locales in the Hidden Histories project. Benjamin Rabishaw, a member of New College who recently graduated with a double major in English and human biology, researched the Reliable Toy Building in what is now known as Leslieville — named after the Leslie family, major property owners east of the Don River in the early 20th century.
"I learned about an unexpectedly thrilling fight between the original builder, Phillips Manufacturing, and the Reliable Toy Company, which aggressively took the site over after the Second World War," says Rabishaw.
Rabishaw delved into municipal tax assessment documents, fire insurance maps and city directories from the late 19th and 20th centuries to trace the genesis of not only the building itself but the development of its surrounding areas — from a neighbourhood of nurseries and wooden cottages to the expansion of the Grand Trunk Railway and other large-scale industrial endeavours.
"Researching this project was like watching a movie at only one frame every few minutes," says Rabishaw. "There is a fair amount of drama in these snapshots when one stitches them together and imagines these transitions taking place in real time to real humans."
The issues explored by the Hidden Histories project aren't limited to architectural history. The project shed light on many related topics, such as changes in cost of living, labour rights and workplace safety legislation, colonization, and the history of industrial buildings as sites of work and union activism.
"This course has absolutely influenced my goals for the future," says Rabishaw. "I want to discover more about working with data, especially to uncover human stories in unconventional places."
Check out the buildings profiled in Hidden Histories: