UC Library - Hours, Location & Contact
UC Library
University College, University of Toronto
15 King's College Circle
Toronto, Ontario
M5S 3H7
Our new location
The University College Library has moved! We're now in a revitalized heritage space on the south side of the UC building, in "East Hall" (room 266 / 366), which was the original home of the UC Library in the 19th century.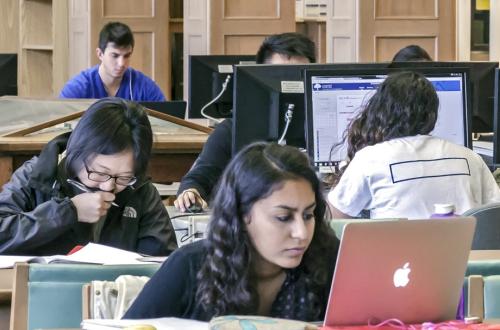 Regular Hours
As of Jan. 10, 2022, the UC Library's physical space will remain temporarily closed until further notice due to the UC building closure.
Books from the UC Library can be requested online via LibrarySearch for pickup at Robarts Library while the UC building remains closed.
If you have any questions or require assistance, please email the acting UC Librarian Gabrielle Fournier at: gabrielle.fournier@utoronto.ca
Please note that the regular opening hours are not in effect while the physical library space remains closed.
Last updated: Jan. 20, 2022
Monday to Thursday, 9am - 9pm

Friday, 9am - 5pm

Saturday & Sunday, 1pm - 5pm
Exceptions to regular hours
Tues. Dec. 21, 2021: closing at 5pm
Wed. Dec. 22, 2021 - Sun. Jan. 9, 2022: CLOSED for U of T winter holidays
Mon. Feb. 21, 2022: CLOSED for Family Day
Fri. April 15, Sat. April 16 & Sun. April 17, 2022: CLOSED for Easter weekend