UC Library - Hours, Location & Contact
UC Library
University College, University of Toronto
15 King's College Circle
Toronto, Ontario
M5S 3H7
Location and Access
The University College Library re-opened in 2021 in its new location in "East Hall" (room 266 / 366) on the south side of the UC building. Our revitalized heritage space was the UC Library's original home in the 19th century.
The UC Library may currently be used by:
  • U of T students, faculty, staff, and alumni
  • UTS students
  • external researchers who have purchased a U of T library card
Members of the public who would like to enter briefly to see our revitalized heritage space are welcome to do so.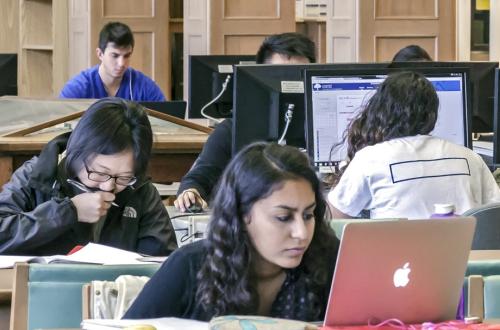 Regular Hours
Monday to Thursday, 9am - 9pm
Friday, 9am - 5pm
Saturday & Sunday, 1pm - 5pm
Library Closures
CLOSED THANKSGIVING WEEKEND: Sat. Oct. 8, Sun. Oct. 9, Mon. Oct. 10, 2022
CLOSED FOR A SPECIAL EVENT: Thurs. Oct. 13, 2022
CLOSING EARLY ON THE LAST DAY OF TERM: Closing at 5pm, Tues. Dec. 20, 2022
CLOSED FOR THE U OF T WINTER HOLIDAYS: Wed. Dec. 21, 2022 to Sun. Jan. 8, 2023
CLOSED FAMILY DAY: Mon. Feb. 20, 2023
CLOSED EASTER WEEKEND: Fri. April 7, Sat. April 8, Sun. April 9, 2023
Librarians
Librarians
UC Librarian (Wednesdays, Thursdays, and Fridays)
UC Librarian (Mondays and Tuesdays)