UC Library - Hours, Location & Contact
UC Library
For general inquiries contact the UC Library service desk at (416) 978-8107.
Laidlaw Wing, University College, University of Toronto
15 King's College Circle,
Room 215 (second floor, northeast corner)
Toronto, Ontario
M5S 3H7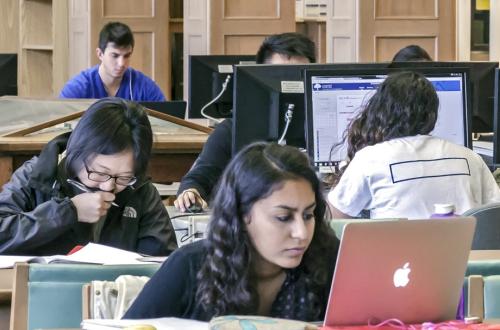 Regular Hours (September to May)
Monday to Thursday, 9 am to 9 pm

Friday, 9 am to 5 pm

Saturday and Sunday, 1 pm to 5 pm
Accessibility
Due to the UC Building Revitalization, the wheelchair-accessible entrance to University College is temporarily closed as a safety precaution during the current phase of construction. Unfortunately, no alternative barrier-free entry will be possible until at least April 2019.
If this affects your ability to borrow books from the University College Library, you may wish to contact Services to Students with Disabilities, University of Toronto Libraries (access.services@utoronto.ca or 416-978-1957), to request that the book(s) you need to be retrieved from the UC Library and left for you at the Robarts Library Loan Services Desk (but please note that this can take some time). Also, feel free to contact the University College Librarian with any questions or concerns: 416-978-4634.
We apologize for this setback on the road to making UC a more accessible building in the coming year.
Learn more about construction-related closures and available entrances.