UC Library - Hours, Location & Contact
UC Library
University College, University of Toronto
15 King's College Circle
Toronto, Ontario
M5S 3H7
uc.library@utoronto.ca
Closed for the Summer
Although the UC Library's physical space is closed for the summer, you can still request books. The UC Library is closed as of Saturday, April 29, 2023 and will re-open for the fall term on Monday September 11, 2023.
Borrowing UC Library books during the summer
You're welcome to request UC Library books during the summer and choose one of the following pick-up locations: Robarts Library, UTM Library, or UTSC Library.
In LibrarySearch, once you find a book you want, you just need to sign in, click "REQUEST: Library Pickup," then choose your pickup library.
Please note that it normally takes up to a week (and might occasionally take even longer) for your requested books to be delivered to your chosen pickup library.
Returning UC Library books during the summer
You're welcome to return UC Library books to another U of T library, such as Robarts (130 St. George St.). 
Or, when the UC building is open on weekdays, you can put them in the book return box located just outside the main UC Library doors (on the 2nd floor of UC, on the south side of the building, above the grand lobby).
Location and Access
To get to the UC Library while the south entrances of University College are blocked due to construction, PLEASE SEE THE DIAGRAM BELOW. The building's NORTH entrances, including an accessible entrance, are open both weekdays and weekends. A west entrance and an east entrance are open weekdays only.
The University College Library re-opened in 2021 in its new location in "East Hall" (room 266 / 366) on the south side of the UC building. Our revitalized heritage space was the UC Library's original home in the 19th century.
The UC Library may currently be used by:
  • U of T students, faculty, staff, and alumni
  • UTS students
  • external researchers who have purchased a U of T library card
Members of the public who would like to enter briefly to see our revitalized heritage space are welcome to do so.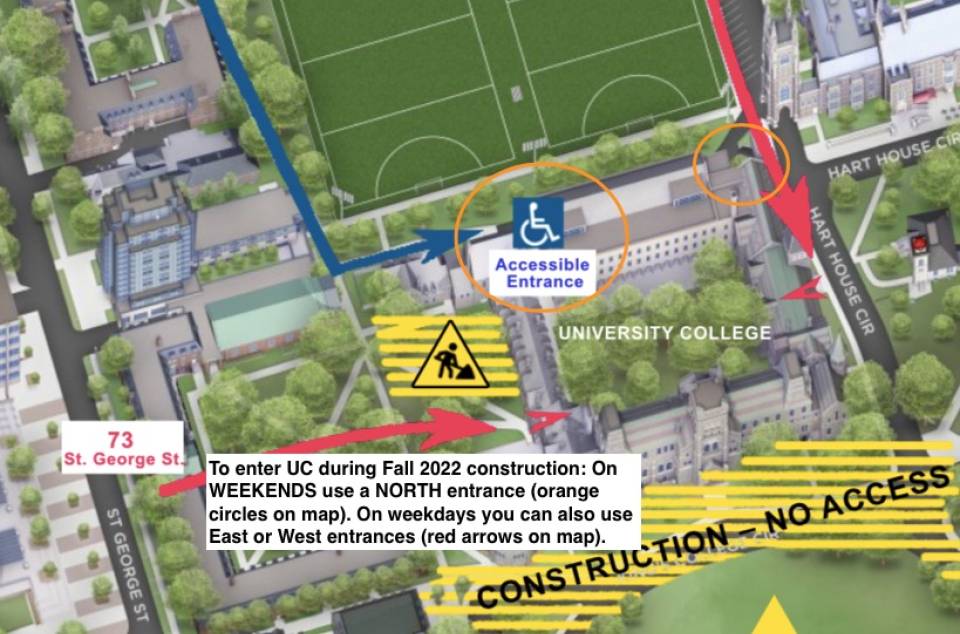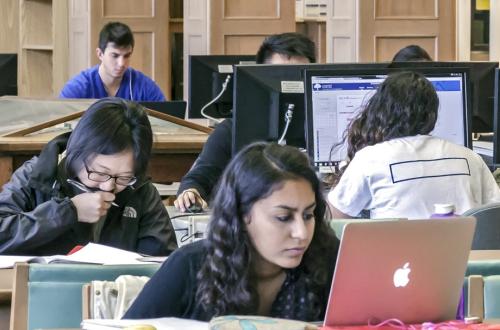 Regular Hours (September to April)
Monday to Thursday, 9am - 9pm
Friday, 9am - 5pm
Saturday & Sunday, 1pm - 5pm
Library Closures
CLOSED THANKSGIVING WEEKEND: Sat. Oct. 8, Sun. Oct. 9, Mon. Oct. 10, 2022
CLOSED FOR A SPECIAL EVENT: Thurs. Oct. 13, 2022
CLOSING EARLY ON THE LAST DAY OF TERM: Closing at 5pm, Tues. Dec. 20, 2022
CLOSED FOR THE U OF T WINTER HOLIDAYS: Wed. Dec. 21, 2022 to Sun. Jan. 8, 2023
CLOSED FAMILY DAY: Mon. Feb. 20, 2023
CLOSING EARLY DUE TO INCLEMENT WEATHER: Wed. Feb. 22, 2023
CLOSED EASTER WEEKEND: Fri. April 7, Sat. April 8, Sun. April 9, 2023
CLOSED FOR THE SUMMER: Sat. April 29 to Sun. Sept. 10, 2023
Librarians
Librarians
UC Librarian (Wednesdays, Thursdays, and Fridays)
UC Librarian (Mondays and Tuesdays)